MBIS, MBISS Am & Can Ch. Buttonwood's Crown Royal, ROM-HT, CGC, RN
"Willie" .....is gone.
July 21, 1998 ~ October 8, 2013

Our last night together....October 7th 2013....my beloved sweet boy....there are no words adequate to express the bond we shared....the journey we took together and the love we had for one another...'Will" there will never be another one like you....you were THE BEST!!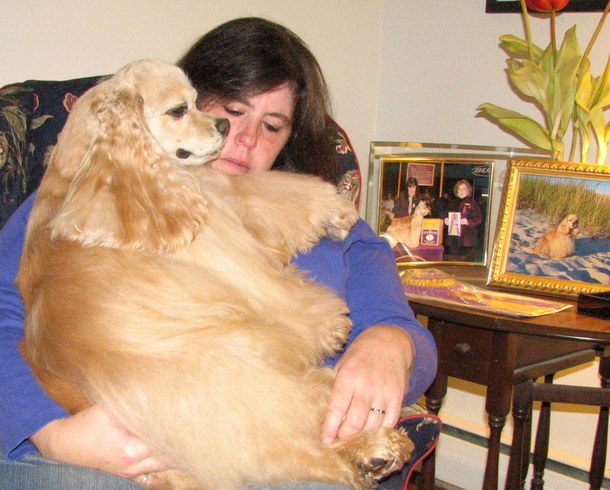 I have lost my compass, my heart is pierced by the pain.

I knew this day would come….and have dreaded it.

I am devastated to be without my heart and soul, the very best cocker spaniel, the most amazing loyal companion I have ever shared my life with.

"Willie"- MBIS, MBISS Am & Can Ch. Buttonwood's Crown Royal, ROM-HT, CGC, RN
….is gone.
July 21, 1998 ~ October 8, 2013

FOREVER and ALWAYS in my heart. Thank you "Willie" for the journey we traveled, the life we shared and all the thrills you gave me.
From finishing with 3 majors from the Bred By Class ~ ranked # 2 Ascob in the country Breeder/Owner/Handled ~ Two Best in Shows ~ Four Best in Specialty Shows ~ Morris & Essex Best of Variety Winner ~ Multiple American Spaniel Club Award of Merits ~ Multiple AKC/Eukanuba Invitational Invitee and Merit Winner and Best Bred By Ascob Winner ~Multiple Group First Winner ~ Westminster Kennel Club Award of Merit Winner ~ Westminster Kennel Club Best of Variety Winner Breeder/Owner/Handled ~ Producer of 35 American & Foreign Champion offspring with his last daughter "Pippa" having finished her championship entirely from the Bred By Class, just like her daddy, with a Best of Variety and a 4 point Major only 5 weeks after his death. This will be just a part of "Willie's" legacy he leaves behind.

The most cherished part aside from all the ribbons and rosettes and medals….was the amazing, happy, healthy, loving and loyal companion he was. Never far from my side, always loving to go for car rides, meet new people, mooch for pizza crust or just cuddle up at the pillow….he was so much more than a 'show dog'…..he was a furry person.

Thank you to all the judges world wide who appreciated "Willie" and specifically some of the late greats Annie Rogers Clark, Everett Dean and present breed judges Elaine Mathis, Gloria Geringer, Bill Mixon & Deborah Verdon who honored him with his Best in Specialty Shows and my most heartfelt thanks to breeder judge Elaine Mathis who made a breeder's dream come true by pointing her finger to him at 8 1/2 yrs of age and awarding him the 2007 Westminster Best of Variety Award breeder/owner/handled. Thank you- Thank you for being apart of this amazing journey.

The tears are flowing so I must stop for now….the memories will continue to flood my brain and my heart.

Thank you all for reading my tribute….but most importantly.....
Thank you "Willie" for the most amazing 15 yrs 2 1/2 months of my life.
You were the BEST!



All content and photos on this website are copyright protected ~ © 2018 C. L .Carey